Charles Boike, associate attorney at Simen, Figura & Parker donated pieces of his artwork for the Whaley Children's Center 2014 Tux & Tennies Gala and Auction in Grand Blanc, Michigan.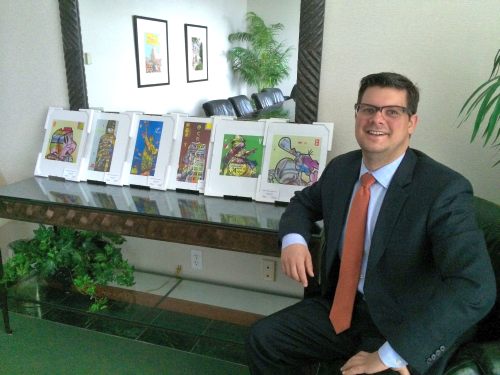 The Tux & Tennies event raises hundreds of thousands of dollars each year to support the Whaley Children's Center in Flint. Whaley Children's Center is a private, nonprofit residential child caring institution which serves children who have suffered chronic and profound abuse and neglect.The services provided to children and families include residential treatment, group homes,& family counseling and aftercare services.
Charles Boike is an associate attorney by day and a painter by night. His law practice includes the areas of general business law, intellectual property law including artist's rights, and bankruptcy law. His gallery work depicts American iconography with the flare of pop art and the essence of street graffiti.
Mr. Boike is an accomplished artist whose work can be found in the Ruth Mott Foundation Collection, the Thomas M. Cooley Law School collection, and the homes of many private collectors. Charles Boike regularly shows his work at galleries around the Midwest, with murals in Dallas, Texas; Chicago, IL; Indianapolis, Indiana; and several cities in Michigan.
Categories
Recent Articles