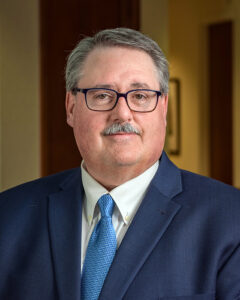 Jeffrey L. Wofford's practice specializes in the planning and administration of estates and trusts, elder law and Medicaid related matters. He counsels clients regarding all aspects of wealth transfer and surrogate decision making. To that end, he has significant experience in the preparation of:
• Wills
• Revocable Trusts
• Irrevocable Trusts
• Durable Powers of Attorney
• Health Care Powers of Attorney
• Medicaid Planning
Jeff also has experience in the administration for individuals after their death, including probate estate, trust administration and many tax related matters.
Jeffrey graduated cum laude from Capital University School of Law in 1999. Subsequently, he attended the University of Florida Levin School of Law wherein he earned his Masters of Law (LL.M.) in Taxation in 2000. Jeff was in solo practice for many years before joining Simen, Figura and Parker, P.L.C. specializing in elder law and estate planning. He is an associate of the firm.
Jeff and his wife Alicia live in Flint Township. They have four children, two boys and two girls. When he is not working, Jeff enjoys playing golf and coaching his boys' baseball teams.