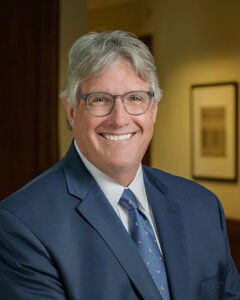 Patric A. Parker devotes the majority of his practice to commercial real estate, business development matters, and representing public bodies. He has significant long term experience in planning and implementation of transactions for a wide variety of businesses.
While his practice is centered in Southeastern Michigan, Patric has a track record for business and real estate acquisition, sales and development in a number of states. He represents developers, lenders, title insurance companies, buyers, sellers, landlords, tenants and homeowners associations in the full range of commercial real estate transactions, including acquisition, land use approvals, leasing, financing, new project development, operations and disposition.
Patric's regular clients have included the City of Flint in its economic development projects and mega-auto dealer Serra Automotive in its real estate and financing matters nationwide. He has served as Corporation Counsel for the Genesee District Library for nearly 30 years, and serves as Corporation Counsel for Baker College. He represented Ascension Genesys Health System in the acquisition of the five hundred acres of real estate for their Grand Blanc Health Park Facility; represented General Motors in the development of the Grand Pointe Office Park commercial project in Grand Blanc, the home of General Motors SPO World Headquarters; represented the developer of the Floyd McCree Health and Human Services Center in the old Montgomery Wards building in downtown Flint.
In addition to his transaction and planning practice, Patric has long term experience in traditional litigation and alternative dispute resolution, both in representing clients and in acting as an arbitrator, mediator and facilitator.
He is a regular speaker for continuing education courses. In his home community of Fenton, he was a long term member and former chairman of the Planning Commission, a long term member and former chairman of the Fenton Community Fund, and a long term member and present Chair of the Fenton Community and Cultural Center Board of Governors. He is also the incorporator of and one of the original board members of LAFF Pathway, Inc., a non-profit working for the funding of and establishment of non-motorized pathways in the southern Genesee County region of Fenton, Lake Fenton, Argentine, and Linden.
Patric is a member of the firm, and a graduate of the University of Michigan Law School.