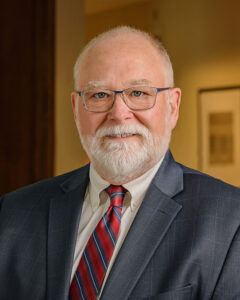 Stephen W. Walton's practice includes the planning and administration of estates and trusts, elder law and Medicaid related matters. He is an associate of the firm.
Stephen graduated cum laude from Thomas M. Cooley Law School, where he served as Executive Editor of the Thomas M. Cooley Law Review. Early in his practice he worked in the trust department for NBD-Genesee Bank in Flint.
In his practice Stephen counsels clients regarding all aspects of wealth transfer and surrogate decision making. To that end, he has significant experience in the preparation of:
• Wills
• Revocable Trusts
• Irrevocable Trusts
• Powers of Attorney
• Health Care Powers of Attorney
• Planning for Medicaid
Stephen also has years of experience in the administration of affairs for individuals after their death, including probate estates, trust administration and many tax related matters.