Patric Parker was admitted to the bar of the United States Supreme Court on March 3, 2014. As a result, he may now argue cases before our nation's highest court.
The Supreme Court rules state that "An attorney wishing to practice before the Supreme Court of the United States must apply to do so, must be admitted to the bar of the highest court of a state, must be sponsored by 2 attorneys already admitted to the Supreme Court bar, must pay a fee and must take either a spoken or written oath."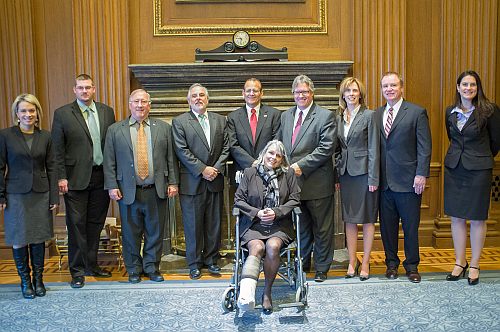 In order to qualify for this honor, Mr. Parker received a certificate from the Michigan State Supreme Court evidencing both his admission to practice in the State of Michigan, and his current good standing. His admission was formally moved at the Supreme Court building in Washington, D.C. by Genesee County Bar Association President Erwin F. Meiers III, who is already a member of the US Supreme Court Bar.
After the swearing in ceremony, Patric Parker observed the main business of the Court that day, including oral arguments on Halliburton Co. V. Erica P. John Fund. At issue was an essential element of class action certification in securities law matters. Arguing for respondent was David Boies, one of the preeminent litigators in the country.
While in Washington, Parker also took the time to meed with Michigan Congressman Daniel Kildee, as well as listening to Michigan Congressman Fred Upton argue in favor of a bill on the house floor.